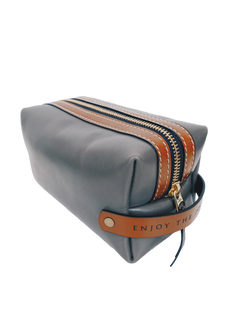 Morgan Rhea
The MR Signature Johnny Dopp Kit
Travel in style with our sleek Johnny Dopp Kit! It features a solid brass zip closure, "Enjoy the Journey" tab and a leather insert. Keep your belonging all in one place as you enjoy your next vacation or work trip. 
 Pre order for Christmas 2023 with mid November delivery!
Use code JOHNNY to save 15%
The Johnny Dopp kit features a reinforced leather bottom for extra protection from your travel essentials. The handle is made for easy hold and can be hung in the bathroom to leave room on the counter. 
9 in. Length x 5 in. Width x 5 in. Height
Handle: 8 in. Width x 1 in Height
Featuring a solid brass zip closure
Dopp kit is a term particularly in use in the US for toiletry bags. It is used for storing men's grooming tools for travel. Common items kept in a Dopp kit are deodorant, a razor, shaving cream, comb, shampoo, nail clippers, scissors, toothbrush, toothpaste, and cologne.