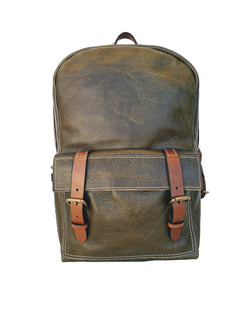 Morgan Rhea
The Jacob Backpack in Bisonte Olive Green
 It was designed to keep you organized and stylish. Made in Bisonte Olive Green Pebble Grain Leather trimmed in Tan English Bridle Leather, it's sure to make a statement wherever your journey takes you. Make it personal and add your initials on the side pocket.
Click below to see dimension details. 
 Please add Initials below if you would like personalized.
Backpack Size: 18 in. Height  x 12 in. Width  x 5 in. Depth
Usable Front Pocket Space: 8 x 10 inches 
Side Pockets: 8 x 5 inches
Inside
Small Pocket: 3.5 in. Height x 6 in. Width 

Features a 2 card slot holder and back pocket
Large inside pocket: 11 x 11 inches