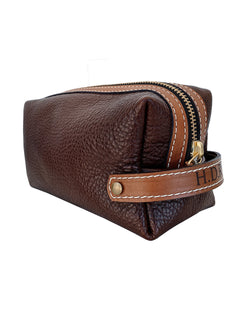 Morgan Rhea
The Johnny Dopp Kit in Bourbon
Made in Bourbon Pebble Grain Leather trimmed in Tan English Bridle Leather, it's sure to make a statement wherever your journey takes you. Make it personal and add your initials on the side pocket. Click below to see dimensions.
Choose our Standard Quote "ENJOY THE JOURNEY" or add INITIALS BELOW. 
The Johnny Dopp kit features a reinforced leather bottom for extra protection from your travel essentials. The handle is made for easy hold and can be hung in the bathroom to leave room on the counter. 
9 in. Length x 5 in. Width x 5 in. Height
Handle: 8 in. Width x 1 in Height
Featuring a solid brass zip closure
Dopp kit is a term particularly in use in the US for toiletry bags. It is used for storing men's grooming tools for travel. Common items kept in a Dopp kit are deodorant, a razor, shaving cream, comb, shampoo, nail clippers, scissors, toothbrush, toothpaste, and cologne.
9 in. Length x 5 in. Width x 5 in. Height
Handle: 8 in. Width x 1 in Height
Featuring a solid brass zip closure