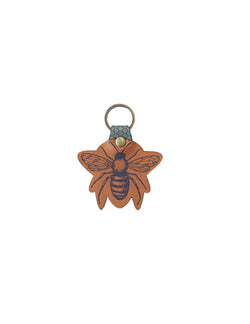 Morgan Rhea
The Bee Keychain
A chic way to find your keys! Never leave the house without your Bee Keychain.
This cute little accessory is a great way to add a little fun to your keys. Add all three colored blocked bees to your collection, order the bundle, you deserve it!
Whole Length: 4.5 inches 
O-Ring: 1 inch circumference 
Bee size
Length: 3 inches 
Width: 3.5 inches
This collection is inspired by the streets of Savannah, GA. We met the first day of orientation when we

 

attended Savannah College of Art and Design in 2011. Over the next four years we would spend our

 

days exploring the beautiful scenery that Savannah had to offer. As the streets were lined with amazing historic architecture, one thing always stood out to

 

us, the fresh floral scents of the flowers.
If you ever took a walk in Forsyth Park and passed by the Garden of Fragrance and smelled the amazing scents or walked along Jones Street seeing the flowers as the accessory that made these homes come to life. We would always get lost in the beauty that Savannah had to offer. We

 

wanted to create a collection that reflected our

 

time there. Since we

 

went to SCAD, we became a SCAD Bee for life! We

 

merged the two things that reminded us of how we

 

met and made this beautifully infused and thought out collection come to life. Our

 

hope is that when you wear a piece of the Savannah Collection that you can feel the beauty that can be seen everyday around you.