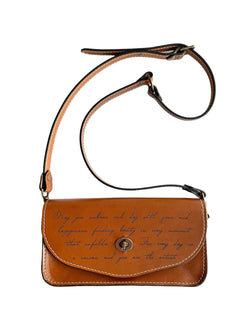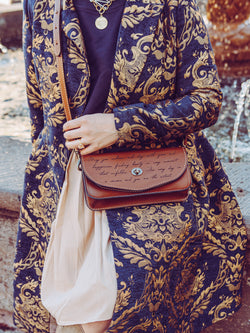 Morgan Rhea
The Dorothy
This petite crossbody bag effortlessly combines style and functionality. Crafted with the finest attention to detail, this accessory exudes a timeless charm and sophistication. Its compact size is perfect for those who prefer to carry just the essentials without compromising on elegance.
The highlight of the Dorothy is its turn-lock closure. This bag offers both security and easy access. The turnlock not only keeps your belongings safe but also adds a touch of style to your look. There is a pocket inside to keep all of your belongings inside.  
Pair with "The Kennedy Wallet" to complete the perfect look. 
Quote: May you embrace each day with grace and happiness, finding beauty in every moment that unfolds. For every day is a canvas, and you are the artist.
The Dorothy is sold out the holiday season!
Pre order  December 15th for $100 off and receive by end of January 2024.  
.
Size: 
Height: 5"

Width: 10"
Gusset: 2.25"