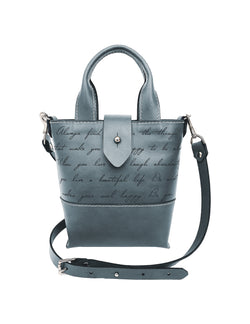 Morgan Rhea
The Harriet Bag
The Harriet Bag is both chic and elegant. It can take you from day to night with it's removable crossbody strap. Featuring a small inside hanging pocket and an insert leather message in the bottom. A leather tab keeps your belongings all in one place. Pair with the Kennedy Wallet and Perry Pouch Wallet to stay organized all day long.
The Harriet Bag is designed for the woman who wants the most she can get out of a bag. It can take you from day to night with the simple change of the crossbody strap. You can wear our adjustable strap that features two swivel clips and a D-ring. It can be taken off and have a handbag that can still carry all of your essentials for an evening out. It has a tab flap located in the middle to secure the bag together with button closure. The hand-rolled handles make wear more comfortable. The interior features a hanging pocket to keep your small essentials in and a reinforced leather base bottom with a quote.
Height of Body: 9 inches 
Width of Body Top: 10 inches 
Width of Body Bottom: 7.25 inches
Handle
Drop: 5 inches 
Width: 1.5 inches 
Inside Hanging Pocket
Height: 4 inches 
Width: 6 inches 
Tab
Height: 5 inches 

Width: 2 inches 
Removable Crossbody Strap, features one D-ring & two Swivel Clips 
Strap Drop at Shortest Length: 21 inches

Strap Drop at Longest Length: 23 inches
Front: Always find time for the things that make you feel happy to be alive. When you love and laugh abundantly you live a beautiful life. Do what makes your soul happy. Be You
Back
:
Let the beauty of what you love be what you do. You are capable of amazing things. Do small things with great love. May your life be filled with love and happiness. 
Inside Base:


 Enjoy the journey