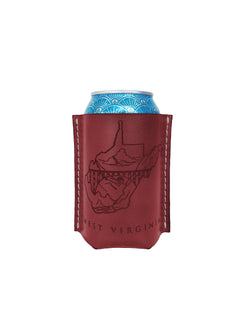 Morgan Rhea
The Cordovan WV Artisan Series Koozie
The West Virginia Koozie makes the perfect gift for someone who lives there or has moved away from home. The sketched
 New River Gorge Bridge is a representation of their first State Park. 
A day on the lake or a picnic in the park and a snug fit around your beverage of choice will keep you the life of the party. 
The MR Koozie is the perfect accessory for your beverage. The perfect way to cheers in style! 
Length: 4 inches 
Width: 4.5 inches 
Fits snug on 12 oz cans and some water bottles. Leather will loosen after a few uses.