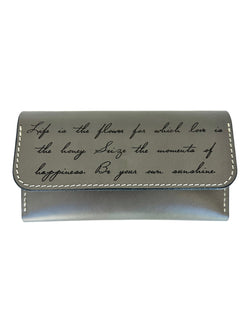 Morgan Rhea
The Kennedy Wallet
The Kennedy Wallet is the perfect combination of practicality and style. Combining a zip coin pouch and a magnetic snap, this wallet provides effortless access to your coins, cards, cash and notes. It's slim yet sturdy design ensures that you can use it for years to come.
Use code: HAPPYHOLIDAYS and save 25%
Height: 4.25"

Width: 7.95"
Open Height: 12.25"
Card Slit: 2.5"
Phone Holder, Receipts, Cash Pocket,
Coin Zipper Pouch
Height: 3.25" 

Width: 7.95"