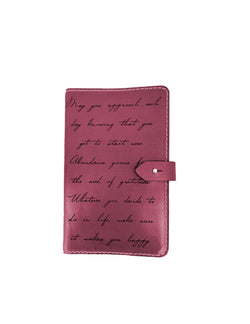 Morgan Rhea
The MR Journal
The MR Journal was made for those whose lifestyle is one of organization. It is a place to keep notes and thoughts and the perfect companion to the Jacob Backpack, Wilma Jean, Charlie or Sandra Tote. A 5" x 8.25" lined journal is included with purchase of cover. 
The Journal is the distant relative of the Edson Portfolio. It was designed to sketch, take notes, add your daily tasks or wildest dreams in. We believe that having a goal and manifesting what you want is a positive force into your day to day life. This cover comes with a 5 x 8 1/4 in., 240 page Moleskin Plain notebook. Once the pages are filled, you can order a refillable 5 x 8 1/4 in notebook for the inside. The possibilities are endless, you can put a yearly calendar or lined notebook as well.
Height: 8.6 inches

Width: 5.8 inches
Open Width:11.75 inches
Left and Right Inside Panels
Height 8.6 inches 

Width 2 inches
May you approach each day knowing that you get to start new. Abundance grows from the seed of gratitude. Whatever you decide to do in life, make sure it makes you happy.