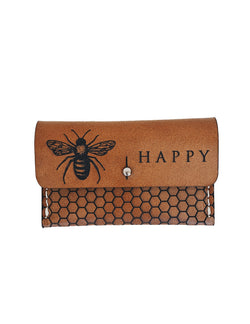 Morgan Rhea
The Bee Happy Perry Wallet Pouch
The Perry Wallet Pouch is a powerhouse as it can hold multiple cards, coins or slide your lipstick in for an evening out. It makes for a chic pairing inside the Mary Crossbody, keeping all your items in one place. However you choose to pair it, we know you will be in love with this small but mighty pouch. 
*Click here for production time.
.*Click 
The Perry Wallet Pouch is designed to keep your everyday essentials in. It features a button closure and a leather reinforcement under the flap for everyday wear. The exterior has a pocket for easy access to your important cards and the interior pouch can hold your cash and cards. This pouch is perfect to hold your small everyday needs.
Height: 3 in.
Width: 4.5 in.
Open Height: 4.5 in.
Back Pocket
Height: 2.75 inches 

Width: 4.5 inches 
This collection is inspired by the streets of Savannah, GA. We met the first day of orientation when we

 

attended Savannah College of Art and Design in 2011. Over the next four years we would spend our

 

days exploring the beautiful scenery that Savannah had to offer. As the streets were lined with amazing historic architecture, one thing always stood out to

 

us, the fresh floral scents of the flowers.
If you ever took a walk in Forsyth Park and passed by the Garden of Fragrance and smelled the amazing scents or walked along Jones Street seeing the flowers as the accessory that made these homes come to life. We would always get lost in the beauty that Savannah had to offer. We

 

wanted to create a collection that reflected our

 

time there. Since we

 

went to SCAD, we became a SCAD Bee for life! We

 

merged the two things that reminded us of how we

 

met and made this beautifully infused and thought out collection come to life. Our

 

hope is that when you wear a piece of the Savannah Collection that you can feel the beauty that can be seen everyday around you.