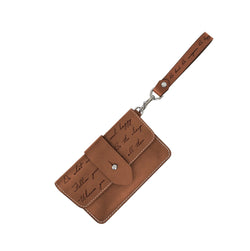 Morgan Rhea
The Emma Wristlet
The Emma Wristlet has a sleek and classic silhouette making it easy to pick up and go. It's the perfect addition to an evening out or slide into your Charlie Tote when you are heading out. The built in 4 slot card holder gives you ample versatility and the wrist strap makes carrying simple! 
The Emma Wristlet is designed for the minimalist in mind. It is a small, slim handbag with a short strap designed to be worn around the wrist. It has a two flap reinforcement for ultimate protection with button closure. The interior features a dividing pocket so you a keep your phone and small essentials in the back and the inside front pocket features the cardholder pocket which can comfortably hold up to six cards and cash.  Its hands free strap makes for an easy hold. It's perfect for an evening out or just running errands around town.
Height: 5.25 in.
Width: 8.6 in.
Open Height: 9 in.
Wrist Strap
Height: 0.85 in.

Width Circumference: 10.5 in.
Do what makes your soul happy.
Follow your bliss. Be the change.
Wherever you are be all there.