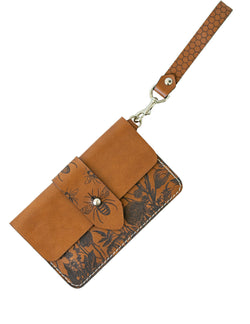 Morgan Rhea
The Floral Emma Wristlet
The Emma Wristlet has a sleek and classic silhouette making it easy to pick up and go. It's the perfect addition to an evening out or slide into your Wilma Jean Tote when you are heading out. The built in 4 slot card holder gives you ample versatility and the wrist strap makes carrying simple! 
The Emma Wristlet is designed for the minimalist in mind. It is a small, slim handbag with a short strap designed to be worn around the wrist. It has a two flap reinforcement for ultimate protection with button closure. The interior features a dividing pocket so you a keep your phone and small essentials in the back and the inside front pocket features the cardholder pocket which can comfortably hold up to six cards and cash.  Its hands free strap makes for an easy hold. It's perfect for an evening out or just running errands around town.
Height: 5.25 in.
Width: 8.6 in.
Open Height: 9 in.
Wrist Strap
Height: 0.85 in.

Width Circumference: 10.5 in.
This collection is inspired by the streets of Savannah, GA. We met the first day of orientation when we

 

attended Savannah College of Art and Design in 2011. Over the next four years we would spend our

 

days exploring the beautiful scenery that Savannah had to offer. As the streets were lined with amazing historic architecture, one thing always stood out to

 

us, the fresh floral scents of the flowers.
If you ever took a walk in Forsyth Park and passed by the Garden of Fragrance and smelled the amazing scents or walked along Jones Street seeing the flowers as the accessory that made these homes come to life. We would always get lost in the beauty that Savannah had to offer. We

 

wanted to create a collection that reflected our

 

time there. Since we

 

went to SCAD, we became a SCAD Bee for life! We

 

merged the two things that reminded us of how we

 

met and made this beautifully infused and thought out collection come to life. Our

 

hope is that when you wear a piece of the Savannah Collection that you can feel the beauty that can be seen everyday around you.