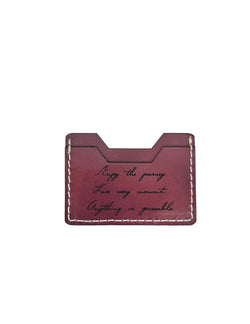 Morgan Rhea
The Martin Card Holder
Our slim Martin Card Holder is ideal for your front or back pocket. It features a pocket on both sides and holds up to 6 cards adequately or place folded cash in the middle. It is perfect if you are looking to minimize your wallet.

The Martin Card Holder is designed for the minimalist in mind. It is pocket sized and features a slot on the front and back that can hold two to three cards comfortably in each slot. There is a thin slit pocket at the top that can hold folded cash or more cards. This wallet is also perfect to hold your personal business cards. This was made to fit comfortably in your back or front pocket. 
Height: 3 inches
Width: 4.2 inches
Front & Back Pocket
Height: 1.75 inches 

Width: 4.2 inches 
Enjoy the journey.
Live every moment. 
Anything is possible.