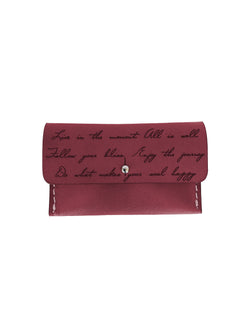 Morgan Rhea
The Perry Wallet Pouch
The Perry Wallet Pouch is a powerhouse as it can hold multiple cards, coins or slide your lipstick in for an evening out. It makes for a chic pairing inside the Mary Crossbody, keeping all your items in one place. However you choose to pair it, we know you will be in love with this small but mighty pouch. 
.*Click here for production time.

The Perry Wallet Pouch is designed to keep your everyday essentials in. It features a button closure and a leather reinforcement under the flap for everyday wear. The exterior has a pocket for easy access to your important cards and the interior pouch can hold your cash and cards. This pouch is perfect to hold your small everyday needs.
Height: 3 in.
Width: 4.5 in.
Open Height: 4.5 in.
Back Pocket
Height: 2.75 inches 

Width: 4.5 inches 

Live in the moment. All is well.
Follow your bliss. Enjoy the journey.
Do what makes your soul happy.