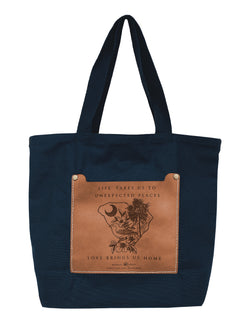 Morgan Rhea
The SC Artisan Series Tote
South Carolina sketched by our local Artisan Julia-Fox Murphy. She has added in a Palmetto Tree, Crescent Moon and the Carolina Wren.
These are all representation of SC. 
Please allow a week and a half for item to be made.
Julia was born and raised in South Charleston, WV. She graduated from SCHS in 1989 and shortly there after joined the US Army where she spent 6 years and participated in the Gulf War. Upon getting out of the military she served as a Court Marshal in Putnam County until she went back to school in 2000. It took her a bit of time to reconnect with her inner artist during her college years, which is why she has an Art degree with minors in Criminal Justice and Education. Julia has drawn her entire life, but struggled with embracing it until she was in her 30's. Upon graduating from WVSU with concentrations in painting, printmaking, and photography.
Julia's 
style tends to vary depending on subject matter and medium, but 
she
 prefers clean lines and bold colors in addition to working with somewhat larger pieces. 
Her
 work has been shown at the Clay Center, and several collectors in the Charleston area have pieces of 
her's
 from local art auctions and commissioned works. 
Her
 biggest influences are Georgia O'Keeffe, Chuck Close, and local artist Paula Clendenin. 
After graduating she went to work for the WV State Auditor's Office as a Graphic Designer until her retirement in February of this year. She has lived In South Korea, Germany, Texas, Georgia, and North Carolina (with a 7 month stint in Kuwait and Iraq). She always knew that she would come back to WV, and now she lives in South Charleston with her husband and life-long sweet-heart Billy Murphy and their dogs, Ghiz, Marley and Ozzy. 

Width: 18 inches

Height: 15 inches

Gusset: 5 inches 

Handles 
Width: 1.5 inches 
Drop: 23 inches 
Front Pocket
Width: 9 inches 
Height: 8 inches 
Features a black 10 ounce canvas with our hand patina copper patch and side tabs. They are attached with Antique Brass, solid brass rivets. The handles are cotton webbing for a more durable hold.