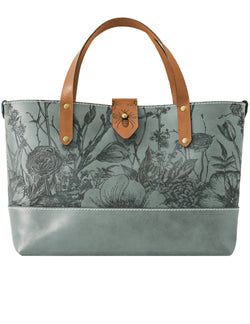 Morgan Rhea
The Wilma Jean Tote
The Sandra Mini Tote has a chic silhouette making it the perfect everyday tote. It features a hanging pocket and a  place to clip your Linden Keychain so your keys will never get lost inside your bag. 
 Pre-order by November 1st to secure Christmas delivery.
 Orders made after this date will be scheduled for shipment in January 2024.
This bag is inspired by Morgan's Great Grandmother Wilma Jean. One of the very first bags she made at Savannah College of Art and Designed was named after Wilma Jean. Morgan and Michael wanted to create a bag that you could feel empowered and inspired by, just as Wilma was the leading lady among Morgan's family. She and Morgan's Mother Kathi shared a June 9th Birthday, which made celebrating her even more special. Celebrate life when you carry the Wilma Jean!
Length: 21 inches
Width: 4.5 inches
Height: 12 inches
Handle Drop Small Length : 8 inches 
Handle Drop Large Length : 11 inches 
Inside Hanging Pocket
Height: 6 inches 
Width: 7.5 inches 
Card Slots
Height: 2.75 inches
Width: 3 inches
Inside D-ring: 1 inch
Tab
Height: 5.5 inches 

Width: 2 inches 
This collection is inspired by the streets of Savannah, GA. We met the first day of orientation when we

 

attended Savannah College of Art and Design in 2011. Over the next four years we would spend our

 

days exploring the beautiful scenery that Savannah had to offer. As the streets were lined with amazing historic architecture, one thing always stood out to

 

us, the fresh floral scents of the flowers.
If you ever took a walk in Forsyth Park and passed by the Garden of Fragrance and smelled the amazing scents or walked along Jones Street seeing the flowers as the accessory that made these homes come to life. We would always get lost in the beauty that Savannah had to offer. We

 

wanted to create a collection that reflected our

 

time there. Since we

 

went to SCAD, we became a SCAD Bee for life! We

 

merged the two things that reminded us of how we

 

met and made this beautifully infused and thought out collection come to life. Our

 

hope is that when you wear a piece of the Savannah Collection that you can feel the beauty that can be seen everyday around you.